Looking for an easy-to-use gun inventory software for business or personal use? Check LendItems, a flexible tracking system for pistols, guns, rifles and other firearms.
Even though our system has not been designed specifically as gun inventory software (you can use it to trace videos, tools, musical instruments, and laboratory equipment or use it as a book inventory software), it has been successfully used by police forces in a few different countries.
That is why we have decided to write this short article to encourage you to check LendItems' advanced features and manage your guns easily.
Our software is very powerful and will make tracing your guns and firearms a breeze. Like with every new software, there is a small learning curve, but we are confident that after a few minutes you will be able to use it.
How to use our gun inventory system?
Using LendItems for your gun inventory will be easy. Please follow the following steps that will allow you to quickly and safely lend your guns.
1. First, register on our website by visiting the signup page.
2. Click on the icon Manage items and then Manage categories.

3. Create a category.
Depending on your needs, you can define one or several categories. These can be guns, ammunition, other equipment, etc. Each category has got additional settings that you can define depending on your needs. You can lend items per day or for hours, and you have to determine the default lending period.
There are two reservation types:
Booking – you will specify the dates and time of day when you want to borrow the item and when you will bring the Item back
Queue – you will not specify any dates. You will be put at the end of the queue for this Item and will be informed when your turn comes.
Lastly, you can define up to 10 category attributes. These should be characteristics that allow identifying objects. As an example, I have put Name, type, calibre, serial number, and value, but you can use other attributes.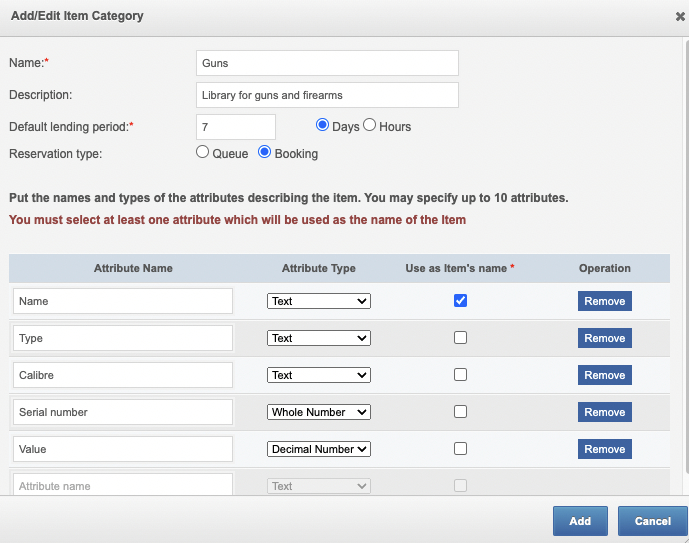 Do the same for each category you create. Do not worry if you forgot something. You will be able to change things later on.
4. Add some guns
Let's add some guns 🙂 Click again Manage Items, from the Items Category choose Guns (or the name you defined) and then New Item.

You will see a screen like this one:

Fill out all the information about a particular firearm you want to manage. Once everything is in place, click Save Item. The item will be saved, and it will be visible when you click Manage Items again.
Please follow the same steps to add to the library all the guns and firearms from your collection.
5. Create some users
We are almost there but before your gun inventory software will start to work, we need to add some users. Head to the Manage Users tab and click Add User. You will see the following screen. Please fill out all the information about the new user.

As you noticed, a new user can have a role. He or she can be either a Standard User or an Administrator with privileges to administer both guns and other users.
When you create a new user, our software sends them an automatic welcome email with a link to access the library.
Follow these steps and add all the users from your organization or group to the library of guns.
6. Lend a gun
We have guns, we have users and finally, we are ready to lend some firearms. Head to the Manage Items tab again, find the gun you want to lend, and click Lend it button on the right-hand side.

You will see a new window allowing you to find and select the user you want to lend the gun to. Type the username and click the search icon. When you find the user, click Select User.

That is pretty much all, confirm the lending on the next page and the firearm will be lent. If you go back to the Manage Items tab, you will see updated information about the landing next to the item:

When the user returns the item, you simply click the Return button and the item goes back to the library.
I hope that you will find our gun inventory software interesting and that will help you with managing your firearms. We merely scratched the surface, you will find more advanced features of LendItems during usage. But this simple tutorial will help you to lend quickly the first items.
If you struggle with our software or have got any questions, please contact our support team or use the comments below.
We will be happy to assist you and answer all the questions.